| | |
| --- | --- |
| | Past Courses and Events |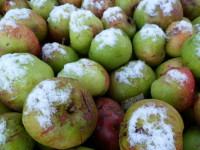 Juicing Open Days 27th and 28th October 2012
Due to lack of apples, the weekend wasn't very busy, but that meant no queues and we got to talk to people rather than just chivvying them along! The snow flurry first thing on Sunday morning was a bit of a suprise but no more materialised during the day thankfully. Around 5 tons of apples pressed this year we reckon, lets hope for a better crop in 2013.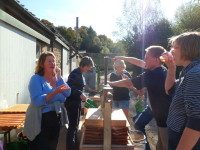 Workday 7th October 2012
We managed to find some apples to juice and we opened up the equipment for others to use too, so it turned out quite a busy day. The sun came out and the sky was a beautiful blue and we had lunch outside.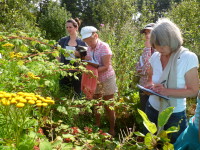 Forest Garden Course 8th September 2012
A late flurry of bookings meant the forest garden course could go ahead and 6 people came for the day to get ideas and inspiration for their plots. The walk round our forest garden was an opportunity to forage for leaves and fruit and gather seeds.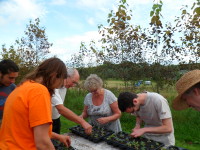 Workday 2nd September 2012
It almost felt like summer for the September workday, we started the day pricking out some seedlings for the wildlife area, then weeded the pots we'd planted up in August. A bit of weed pulling in the forest garden before lunch, then some spot mulching round trees and bushes. A bit of scything, then kelly kettle tea in the shade of the willow seat, before another cup of tea sat in the sun by the kitchen.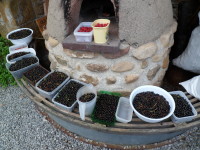 Workday 5th August 2012
Lots of blackcurrants and raspberries picked today, we also pricked out over 400 seedlings for the wildlife area, which hopefully will be planted out in a spring 2013 workday.
Workday July 2012
2012 is proving a bad year for fruit, the weather has been wet and cold. So, no annual strawberry picking on our July workday this year. But there were gooseberries and we even had time to top and tail some.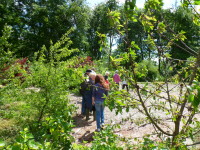 Open Gardens 9th & 10th June 2012
The gardens at the hall and our forest garden were open to the public, under the National Garden Scheme for charity, on the 9th and 10th of June this year. The weather was kind to us, black thunder clouds could be seen in the distance, and around 500 people visited. 2013 gardens will be open the first weekend in June.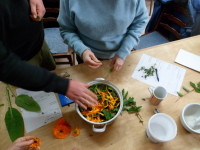 Food and Medicine from the Hedgerow Course 19th May 2012
Five people attended this new course added to our programme for 2012. Led by Ross Menzies from The Herbal Clinic in Hexham, participants gathered ingredients to make a meadowsweet tea, comfrey and calendula ointment, nettle soup (which was served for lunch), and various tinctures. Walks around the farm revealed many useful 'weeds' as well as the herbs growing in the forest garden. This is a course we will be repeating in 2013.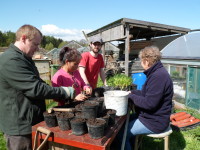 Workday 6th May 2012
Out in the sunshine, potting on herbs and other plants ready to go in the forest garden.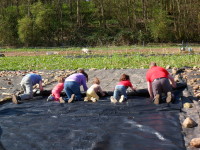 Workday 1st April 2012
A lovely, sunny day with plenty of helpers of all ages. We manured under the ground cover where we'll be planting leafy greens later on in the year.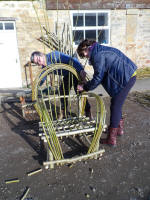 Willow Chair Making 1st March 2012
Out in the sunshine for this March course where 3 more chairs were made.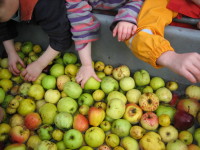 Apple Juicing weekend 30th & 31st October 2011
A busy couple of days, rounding off a busy juicing season. Around 14 tons of apples were juiced in all.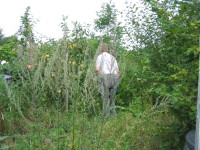 Workday 4th September 2011
Apple picking in the Forest Garden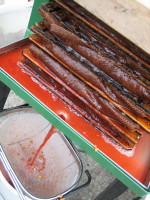 Apple Juicing 23rd August 2011
2012 was to prove a bumper, and early year for apples, the first being ready in August. Someone brought some red fleshed apples from trees along Bondgate in Ripon and they made a lovely pink juice. We have some Bondgate Blush cider too!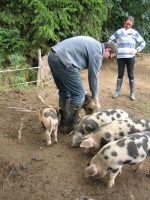 Pig Keeping Course 13th August 2011
Another pig keeping course where the participants got to know Dumpling and her piglets well!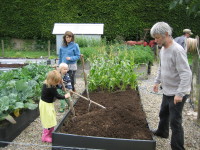 Workday 7th August 2011
Lots of helpers today, so we got all the blackcurrants picked and had time to turn and empty some of the compost bins, and spread on to the raised beds.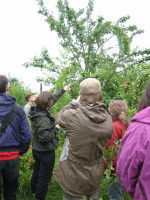 Forest Garden Course 16th July 2011
Another 8 people came on the forest garden course this July, the weather was a bit wet for our walk around the forest garden but that didn't stop the tastings of leaves and fruit and gathering of seeds.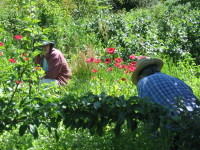 Workday 3rd July 2011
A hot day for our annual strawberry picking workday this year.
Pig Keeping course 25th June 2011
A full house for this course, with Dumplings 3 week old piglets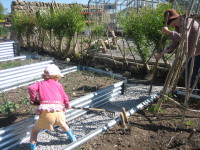 Workday 1st May 2011
A variety of jobs done this workday - gravelled around the new raised beds, some weeding in the forest garden and cleared and sowed an area with leafy greens for the pigs and sheep for over winter.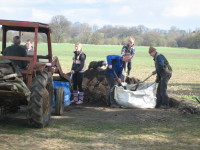 Workday 3rd April 2011
Todays main task was to move the heap of compost, about 10 tons, out of the field. We bagged it up in to old builders bags and used the tractor to move the bags out of the way. The compost bags now have potatoes planted in
Pig Keeping Course March 2011
A chilly day for participants on this course, who learnt (amongst other things) how to measure a pig to calculate it's weight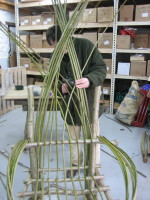 Willow Chair Making 12th March 2011
Another 4 beautiful chairs made on this course, 2 very different and 2 pretty much the same design, all very comfortable!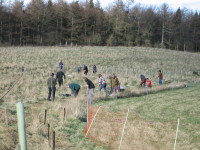 Tree Planting March 2011
A rainy start to the day didn't deter 20 plus people coming and helping to plant trees on our field. The trees were given to us by the Woodland Trust and we had around 450 to plant. The willing helpers made light work of it and they were soon all planted with spiral protectors to stop the rabbits nibbling them.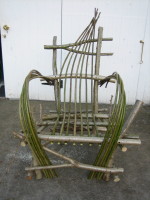 Willow Chair course Feb 2011
Just 2 people making 1 chair on this course so they got my full attention. The willow and hazel lent itself to this off centre design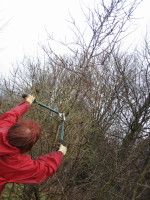 Workday 6th Feb 2011
Bit of pruning and chopping today, cutting down the old raspberry canes and taking down the height of some of the sea buckthorn in the shelter belt.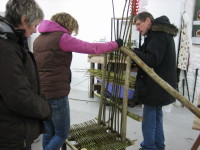 Willow Chair Course 22nd Jan 2011
5 people made 3 chairs on this course with some new techniques and designs used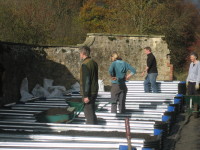 Workday November 2010
The weather in early November was still quite mild, so we put off our planned mulching in the forest garden until the grass stopped growing. Instead, we started to fill our new, space age raised beds. 7 new volunteers came to boost the numbers and did a fantastic job of barrowing compost, whilst others cleared out the polytunnel and greenhouse. A more relaxing afternoon having a tour of the forest garden was enjoyed after a big bowl of soup for lunch.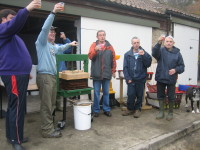 Juicing with Ripon Community Link 5th November 2010
A group from Ripon Community Link have helped with the apple juicing for the past two years, and a good job they were able to help with the amount of apples there were to collect this year! We spent 2 days picking apples at Newby Hall, gathered some from Mickley and helped the Walled Garden Scheme in Ripon to make use of some of their apples too. The lads, who all have learning difficulties, then joined in with a days apple pressing and enjoyed a celebratory glass of juice.
Pasteurised apple juice, made from apples from the Walled Garden, is available at the Walled Garden Scheme , Palace Road in Ripon.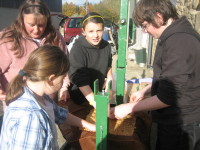 Apple Juicing 2010
There was a huge apple crop in 2010 and loads of people wanted to make apple juice and cider, so we had some extra days this year as well as our big weekend. All in all we reckon about 150 people came and 7 tons of apples were juiced, 5.5 of them on 30th and 31st October! We also were able to pasteurise some of the juice (700 bottles) with our new pasteurising machine, partly paid for by the donations made last year by juicers. Pasteurised juice lasts for a year, which comes in handy for those with not much freezer space and we'll be offering to do this in future years too.
** If anyone came juicing in 2010 and hasn't had an email from us dated 17th November 2011, please get in touch as we have some very important news to tell you! **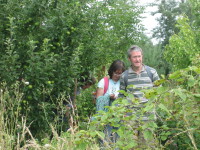 LAND project visits in summer 2010
The Permaculture Association LAND project is proving very popular with groups wanting to visit Old Sleningford. We have had groups from Clitheroe, Pudsey, Whitby and Leeds, all with the intention of growing food but all with different circumstances and requirements.
We suggest the groups come between 10am and 2pm or 11am and 3pm, which allows them plenty of time to look round the Forest Garden, visit the pigs, have lunch, then look at the raised beds, orchard, charcoal kiln and wood store. Groups tend to bring their own lunch but we can provide food for a small cost per person. We hope they all went away with some ideas and inspiration and had a good day out.
If you are a voluntary/community group with 10 or more people that want to visit, you may be eligible for travel expenses to be paid through the LAND project. Contact the Permaculture Association for more details.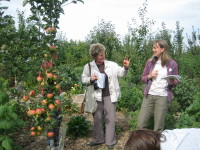 Forest Garden Course 4th September 2010
Another course that's growing in popularity is the Forest Garden day, this was the 4th course we ran in 2010. The attendees enjoyed some late strawberries and autumn raspberries and admired the bountiful apple crop.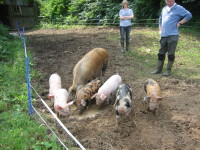 Pig Keeping Course 15th August 2010
The pig keeping courses are proving so popular, we ran an additional day on the Sunday following the advertised Saturday. Not that Dumpling and her piglets minded, they loved the attention.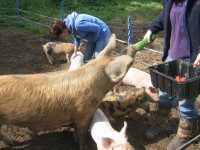 Pig Keeping Course 14th August 2010
Dumpling and her piglets enjoyed the attention of the course attendees on a fine sunny Saturday.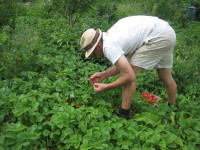 Workday 4th July 2010
July workday is always a fruit picking day, especially strawberries. There weren't quite as many as last year, but we managed to pick 38kg.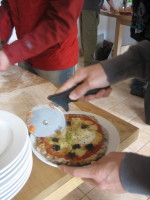 Visit by The Stables Project 26th April 2010, through the LAND project
The Stables Project from York visited Old Sleningford, organised through the LAND project. They were particularly interested in our wood fired pizza oven, as they are about to build one themselves. We had a wander to see the pigs and the Forest Garden before making pizzas for lunch. Everyone made their own, choosing the toppings they liked, and everyone managed to get theirs in to the oven from the peel without dropping it. After lunch, we had a walk by the lake and in to the woods where the rope swing and tree climbing finished the day off.
Through the LAND project, eligible groups that want to visit Old Sleningford Farm can claim travel expenses, and they'll also pay us some money to give the group a tour and put on any other activities they may be intersted in. See www.permaculture.org.uk/land for more information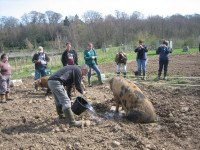 Pig Keeping Course - 17th April 2010
Another full course for the pig keeping day on a sunny spring day. The pigs were enjoying the sunshine and dived straight in to the wallow the course participants made for them.
There certainly seems a growing interest for people wanting to keep their own livestock for food, some people come on the course even before they have some land, to ensure they are fully prepared to get some pigs as soon as possible. Our next course is 14th August when all being well, our new piglets will be just about to wean from their mums.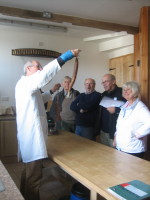 Curing and Smoking Courses March 2010
Our Smoking and Curing Course proved so popular this year that we added an extra date to accommodate all the people who wanted to attend. They all had a day of sampling cured and smoked food, and learning about dry curing, brining, hot and cold smoking. New foods we tried this year were smoked liver and smoked nuts - very nice indeed!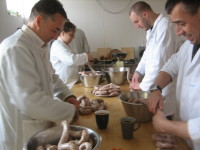 Sausage Making March and April 2010
Another three fun days of sausage making were held during March and April, with 12 people getting to grips with mincing, stuffing and linking. We made a variety of flavours, incuding some salami and a dried garlic version, which are hung drying at the moment.
We've added a new page full of photographs to the website to show the process, just click on the play button to see a photo slide show.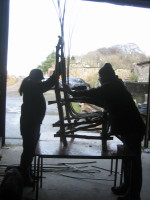 Bent Willow and Rustic Chair Making Courses February and March 2010
The willow and hazel around Old Sleningford is now very abundant and therefore there was plenty of material to be able to run three chair making workshops this year. In total, 16 people came and made 10 chairs - all different shapes and sizes, and all beautiful and unique. Amazing considering everyone starts out with the same sorts of bits of wood.
So you can see the chair making progress, we've added a new page to the website with a photo gallery of all the chairs being made. Click on the play button to watch the slideshow.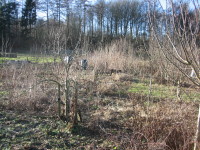 Forest Garden Course 6th February 2010
Winter is the time for planting trees and that's when a Forest Garden can start to take shape. 13 people came to the February Forest Garden course and took the opportunity to see the structure of our forest garden whilst in its winter state. A timely course for a number of the participants who are planning to plant in the next year. "Just to say thank-you for such a good day. So much valuable information. I feel more confident to plan a design before I start to plant up."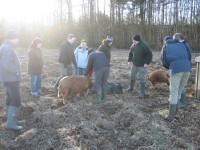 Pig Keeping Course - 30th January 2010
The pig course scheduled for the beginning of January was postponed due to the snow but did run at the end of January. 9 people spent the day learning about pig husbandry and a good couple of hours was spent with the pigs, who behaved themselves and enjoyed the tummy tickles. "A big thanks for a great day today, we all enjoyed it very much and got a lot out of your course. It answered and covered everything we wanted to know" said one participant.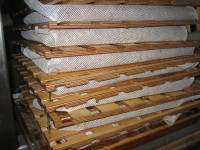 Apple Juicing and Cider Making 2009
Our apple juicing weekend was so popular last year we decided to spread the dates out in 2009, which also meant that people with early apples could make some juice too. New equipment also meant the process was more streamlined - no more chopping apples as the new 'shredder' will take whole fruit. It was nice to see people we only see once a year juicing, and to see some new faces. Looking forward to trying cider samples in the summer.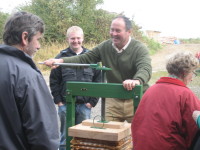 Slow Food Convivium visit 10th October 2009
We got to know about the North Yorkshire Slow Food Convivium earlier in the year and their ethos of good, clean and fair food fits in well with our thoughts on how food should be raised and grown. So, we organised a day for their members, starting with a tour of the farm, pizza from our wood oven for lunch then an afternoon of juicing apples. It was beautiful weather, we had lunch outside and it took a bit of motivating to get people on to making some apple juice from the fruit they had brought with them, but they soon got in to the swing of washing, milling and pressing. We hope to do more with Slow Food in the future.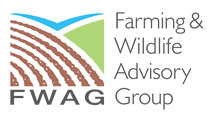 Farming and Wildlife Advisory Group Visit 12th September 2009
The Farming and Wildlife Advisory Group (FWAG) have an extensive programme of events throughout the year and they asked if we would host a visit to be of interest to smallholders. 40 people came on a glorious September day and had a tour of the farm, taking in the wood fired heating systems, charcoal burning, Forest Garden and the animals. Pizza lunch sat in the sunshine, made with ingredients mostly from the farm.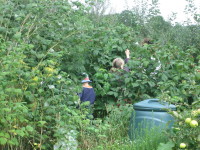 Visitors on Workday 6th September 2009
We've had lots of visitors to the farm in 2009, some for a general look round, some on a more formal visit. The group which came on September workday were from West Yorkshire and were looking at planting a forest garden. After a morning of looking round, talking about ways of achieving a large scale forest garden and picking raspberries and other fruit, we had lunch then got down to some serious mulching. A couple of hours later and 10 tons of manure had been moved, a fantastic days work - thanks to all of them.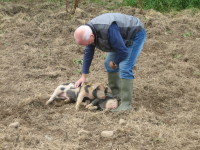 Pig Keping Course 22nd August 2009
A third pig keeping course on the farm in 2009, which co-incided with the arrival of Plunkys litter of piglets. After lots of tummy tickles, the participants helped to move Plunky away from her piglets to wean them, they were 8 weeks old and big enough to fend for themselves!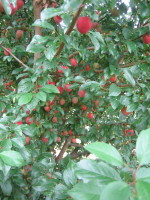 Forest Gardening Course 8th August 2009
The second Forest Garden course of the year and another group of people interested in implementing some forest garden ideas in their gardens / allotments / woodlands - a wide range once again. Our forest garden was in full soft fruit production and we tasted our way around.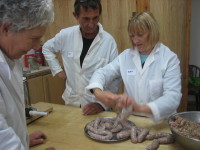 Sausage Making July 2009
Two popular sausage making days were held on the farm in July. We use meat from our pigs, our home-made bread and, when possible, other ingredients from our garden to make delicious sausages. A family member of one of the participants who had a taste said "100/100, but the sage & onion a few points more because of the most unusual succulence of the oniony bits". High praise indeed!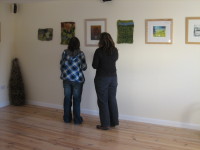 Open Studios 2009
Anna Poulton and Stuart Whitehead, who have a workshop at Old Sleningford, opened their doors as part of the North Yorkshire Open Studios. Work by other local artists including Hester Cox, who runs printmaking workshops at the farm, were also on display. The Forest Garden was also open with some of our rustic chairs for people to take a seat on.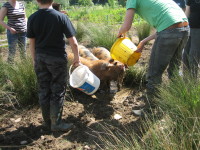 Pig Keeping Course 13th June 2009
A beautiful day for the pig keeping course in June, the piglets were very happy with the wallow the participants made for them.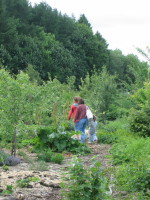 Open Gardens 6th and 7th June 2009
Old Sleningford opened it's gates to visitors once again and everyone enjoyed the formal house gardens as well as our Forest Garden. The gardens are open as part of the Yellow Book gardens open for charity on the first weekend in June each year.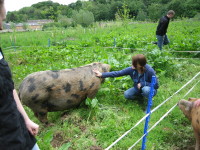 Pig Keeping Course 23rd May 2009
The first course for Plunky since she and her piglets arrived on the farm. They all behaved very well (pigs and partcipants!).
Edible Forest Gardening April 2009
A full course with attendees from all over the country and ideas ranging from back gardens to existing woodlands. It was a bit chilly for our walk through the Forest Garden, but we tasted various leaves and looked at the stages of growth that can be seen with the way we have planted. Everyone went home with ideas to try.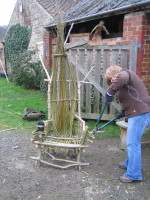 Bent Willow and Rustic Chair Making March 2009
Once again, there was a mix of creative and traditional chairs made on the 2009 chair making workshop. 5 people made 3 chairs using hazel for the frame and willow for the seat, arms and back. One chair even had a built in cup holder!
Apple Juicing and Cider Making 25th & 26th October 2008
The threatened 80 mile an hour winds and 3 inches of rain thankfully didn't materialise for our annual Apple Juicing and Cider Making weekend. Over 90 people came with a variety of different apples and we made gallons and gallons of delicious juice. Some went home with instructions on cider making, others with instructions on how to make a press. Everyone got stuck in to washing, chopping, shredding and pressing the apples and everyone had a sample of juice as it came out of the press. We're already planning modifications to the press and additional equipment for next year so get it in your diary - the last weekend in October 2009.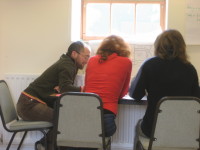 Edible Forest Gardening Course October 2008
A second Edible Forest Gardening course ran in October 2008. Using the Forest Garden and orchard at the farm, the 6 participants learnt how to utilise growing space to maximize productivity, without creating themselves too much work. As the Forest Garden at Old Sleningford matures, we anticipate there will be a greater demand for courses and information about this way of growing food and we will be organising more in the coming years.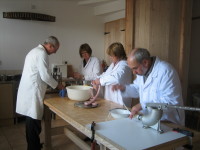 Sausage Making & Curing and Smoking Courses October 2008
For the past 4 years we have made suasages, bacon and hams from our pigs and we decided it was high time we shared some of our recipes and techniques with other people who are as passionate as us about food. The thing about making your own sausages, smoked or cured food is you can be 100% sure of what ingredients have gone in to them. No rusk, water, smoke flavours or preservatives go in to our food, just salt and natural flavours from herbs and spices. We hope we have encouraged all the course attendees to use natural ingredients too. An essential part of the courses is tasting some of the food, either made by the attendees or by us previously. This gives the opportunity to discuss flavours and textures and make suggestions for alterations or improvements to our recipes. We hope to run more of these courses in 2009, please contact us if you are interested in attending.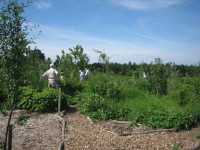 Summer Visits June and July 2008
Old Sleningford welcomed a large number of people over the summer, who attended the Gardens Open for Charity weekend, the Yorkshire Gardens Trust summer picnic and a thank-you party for volunteers at Ripon Cathedral. Visitors were invited to look round the Forest Garden as part of their tour. Many people were intrigued and inspired by the way plants and trees were growing together, especially when they could pick the strawberrys and raspberrys that were just coming ripe. Rachel also hosted a visit from RHS Garden Harlow Carr. Matthew Wilson, the Curator and Head of Garden is planning a Forest Garden at Harlow Carr in partnership with Bettys and Taylors, and has asked Rachel to help design and plan the planting. The first planting is planned for winter 2008.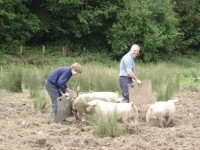 Pig Keeping Course 31st May 2008
6 budding pig keepers came on the course to learn all about pig keeping and to decide if it was for them. They spent quite a bit of time with the pigs, who were very friendly, and they all went away with plans for what breed they would get and where they were going to live.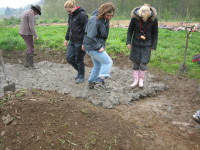 Pond Puddling May 2008
We had two pond puddling sessions, both on perfect days for the job - it was raining! Clay was dug up from the bottom of our field, where there is a lake already. The pond is in the wildlife area within the Forest Garden and will hopefully attract lots of beneficial insects and amphibians.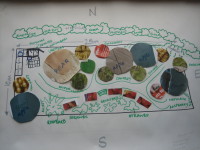 Edible Woodlands Course April 2008
9 people joined the Edible Woodlands Course and had a very "informative and inspiring" day. There were lots of discussions about growing and planting crops for food and a couple of cold visits to the Forest Garden and orchard.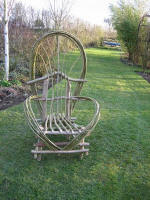 Willow Chair Making March 2008
The participants on this course all went home with a beautiful and unique chair - handmade by themselves. Willow and hazel, grown on or near the farm, was used to create the chairs. The chair designs grew organically as the wood was joined together and bent in to shape. This is an annual workshop and will be run in February or March of each year.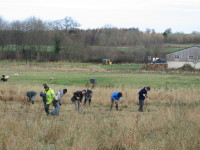 Tree Planting November 2007
The rain on Saturday didn't put off us tree planters, and by the end of Sunday 560 trees had been planted.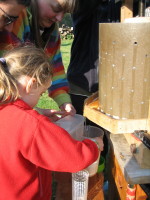 Apple Juicing and Cider Making 21st and 22nd October 2007
Another busy and productive day at our annual Apple Juicing in 2007. Over 60 people came and used the equipment to make around 400 gallons of juice!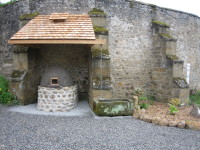 Pizza Oven May Bank Holiday 2007
Over the bank holiday weekend, we had a few people come to help make our pizza oven. Everyone got stuck in mixing the cob and forming the thick walls of the oven. The oven is now fully operational and we've found a pizza session is a real social affair as everyone gets involved in preparing the toppings, making pizzas and eating them.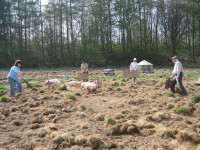 Pig Keeping Course 14th April 2007
It was a lovely day for the pig keeping course, so we spent lots of time outside with the pigs. As the photo shows, they weren't keen on being moved with the boards, but as soon as the food came out, they would do anything!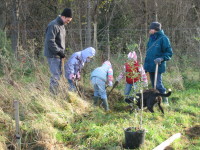 Tree Planting December 2006
Thanks to a Tree Council grant, we were able to plant phase 3 of the Forest Garden. We also planted a shelter belt of poplar. Over 50 people came and helped over 3 days planting, which also entailed mulching with carpet, cardboard and straw and eating lots of nice food!