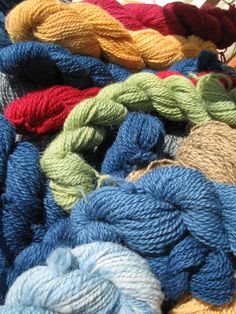 Natural dyeing is ancient and specific art we can dip into and experience for ourselves. It brings out the alchemist in us all - no wonder magic was believed to have taken part.
Old Sleningford Farm has a rich diversity of plants that we can study, choose and gather for this full day workshop.
Debbie Fisher is a Naturopath with a passion for spinning fleece and dyeing it naturally with botanicals. She has been creating her own yarns and designing knitwear for 25 years ago when it became her relaxation away from a busy clinic - she has been fascinated ever since. Just looking at old oil paintings gives us the idea of colours and shades available from natural pigments we can find in the earth and plants growing from it.
What will you learn
We will discuss protein versus vegetable fibres. Mordants and alteratives. Historical and local practises - and all the reasons why.
What to bring
Protective gear - come in outdoor clothing with gloves such as marigolds/latex.
Secateurs if you have them
Onion skins, red or white, any age as older skins give a different colour to younger ones
Plastic bags to take your rainbow home
Saturday 1st July 2017
£55 per person includes lunch, refreshments and wool that will be used to dye
10am to 4pm.