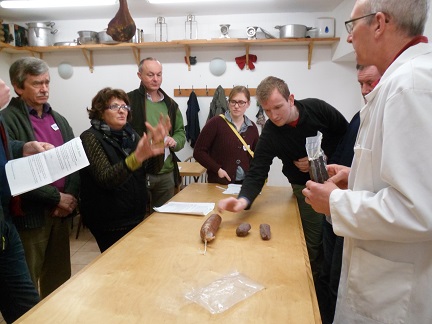 Preserving food by curing and smoking is an age old, artisan craft. This one day course will take you through the reasons for preserving in this way, the different foods that can be cured and smoked, curing methods, hot and cold smoking and different recipes. The day will be a mixture of talks, discussions, demonstrations and hands on practical sessions.
Who will benefit from the course?
Anyone who is passionate about good food will enjoy this course. It is aimed at those who want to experiment with preserving food by curing and smoking. Whether you have access to your own produce or are just keen to turn some bought produce in to something special, this day will give you the confidence to try some of the techniques yourself.
What will be covered and how will you learn?
· Curing methods
· Foods which can be cured and smoked, including bacon, ham, sausages, cheese and fish
· Hot smoking
· Cold smoking
After a short health and safety talk and a discussion about the day, we will start in the classroom and give some background knowledge of the process. We will then look at the curing methods and then how to smoke. Participants will be encouraged to be involved with parts of the process, which will be hands on and practical.
What to bring
Warm clothing (the room will be unheated to keep the meat cool and we will be outside for part of the day)
Pen, note pad etc if you want to take notes
Camera (optional)
Sunday 13th August 2017
10am to 3pm. £60 per person including lunch, refreshments and lots of tastings