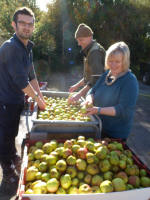 Apple Juicing Open Days 2020
2020 is a weird year for all of us but nature doesn't stop and the apples are still ripening on the trees. Our equipment is ready to use and we are keen to hold pressing days - and judging by the number of phone calls and emails we've had, so are you!
We started offering our apple pressing service over 10 years ago as a way of using apples that would normally go to waste. Unlike most other apple pressing services, we wanted people to be involved with the process of taking their apples from tree to bottle. We give our time and equipment freely to enable this to happen, asking only for a voluntary donation in return which is reinvested back into the pressing service. As Old Sleningford Preserves expanded, pasteurising and cider making became available and this has allowed even more people to use the service and tons more apples to be used. Payment for pasteurised juice and cider covers the costs of providing this. Over the years, hundreds of families have gathered for a fun few hours, making use of tons of apples, something we are proud and pleased to have enabled.
After a lot of thinking, planning and discussion with Environmental Health in Harrogate, we have come up with a way of working that will comply with all the rules and minimise any risk - so all systems are go!
As you'd expect, there will have to be some changes, which are detailed in the FAQ's below. Please read them carefully, in order to keep everyone as safe and be as efficient as possible we will need to be strict about enforcing them. This is new to us and we will do our best to enable as many people to press their apples as possible but please bear with us if things don't quite go to plan!
The main changes will be:
· You will need to book a time slot for use of one of the presses according to the amount of apples you are bringing.
· You will have to wash your hands before and after using each piece of equipment
· Equipment will be spaced to allow social distancing and will be washed down and sanitised after each group has used it
· There will be no apple washing facility and we will not provide hot drinks, jugs and funnels
· For those with larger amounts of apples we are asking for a minimum of 2 people to come so we can move one person on from the shredder to pressing and therefore make the process more efficient
· Group maximum will be 5, from the same household or social bubble, and we are asking those bringing children to consider if they need to factor in extra time for them to be involved
Obviously, if the guidelines and regulations change we will review our procedures but fingers crossed we can get some pressing done!
FAQ's
What measures are you taking to comply with Covid-19 guidelines?
We have completed a risk assessment, which is available to view on request. The following is a summary of what is contained in it, all measures will ensure social distancing is maintained and risk of transmission of the virus is minimised. More details of each measure and compliance are included under the specific FAQ's below.
· Visitors will be asked not to attend, and will be turned away, if they are showing signs of illness
· Visitors will only be allowed in groups from the same household or social bubble, maximum 5 people per group
· Visitors will need to book a time slot to limit the number of people present at any one time, which will also gather contact information for use if contact tracing is required.
· Visitors will have to wash their hands before, in between and after using the shredder and press. If visitors touch something other than the apples and equipment e.g. mobile phone, they will have to wash their hands before touching the equipment again. 2 hand washing stations will be provided
· Equipment will be spaced to allow 2 meter social distancing of groups
· All equipment will be washed down and sanitised after each group has used it
· We will not be asking people to wear masks or gloves. If people want to wear heavy duty gloves to protect their hands they will need to be washed in the same way as hands before and after using each piece of equipment
How do I book?
As there are a number of changes this year, please read all the FAQ's before you book, even if you've pressed apples before as things will be different. As always, we will try and make the process as efficient and enjoyable as possible for everyone and if visitors are fully aware of the new procedures that will help to enable that – thank you
Please use the new online booking system, we will not take bookings by telephone or email so please don't try! You will not be able to press apples without a booking so please do not turn up on the off chance – you will be turned away.
You will book a time slot for use of a shredder and a press, according to the number of apples you bring. The online booking system has the dates and guidance on how to work out what to book, how long to book, what time to arrive, what happens if you are early or late, what happens if you estimate the number of apples wrong, how, when and what to do if you need to cancel.
How many apples can I bring?
Anything from a few to loads! We have 2 shredders and 3 presses so can cater for varying amounts and for 2020 you will book a press according to the amount of apples you bring. To make it fair and let as many people use the equipment as possible this may mean people with very large amounts of apples may not be able to press all of them this year. We are limiting booking to a maximum of 2 concurrent sessions.
What type of apples?
Any apple makes juice, eating apples tend to make a sweeter juice, cookers a sharper juice. A blend of different apples always works out well, but bring what you have – it all tastes good and better than any commercially made juice.
Can I bring windfalls?
Yes, providing they are clean, show no signs of mould and haven't come from an area with animals grazing. Please wash all wind fallen apples before bringing them, we do not have the washing facility this year
Can I bring pears?
Yes. On their own the juice can be too sweet so we would recommend a blend with apples. 50/50 always tastes good
Can I bring apples with bruises or scabs?
Yes, providing they haven't gone mouldy
Do I need to wash the apples?
Only if they are windfalls (see above). However, it's your own preference if you want to wash picked apples. Please note, we do not have washing facilities this year
How much juice will I get and what can I do with it?
Approximately 2kg of apples will give 1 litre of juice. This can vary depending on the variety and ripeness of the apple
Covid-19 is not transferred through food so juice is safe to drink and take away fresh. Please bring your own containers, jug and funnel as we will not be providing these this year. We would suggest you overestimate the number of containers you need as often the apples yield more juice than expected. Fresh juice can be frozen in plastic containers such as milk cartons. You can sterilise the containers if you wish, we would just suggest they are spotlessly clean.
Fresh juice can also be taken away to make your own cider. We can give you guidance on cider making whilst you are pressing if needed.
Juice can be left for putting in to glass bottles (provided by us) and pasteurised. The juice is heat treated to kill off bacteria and yeast which gives a 2 year shelf life and can be stored at ambient temperature. You can leave any amount of juice: under 60 litres will be put in a large communal barrel and you will get back the equivalent number of bottles to the juice you left. Over 60 litres you can opt to have your own barrel which means you get all your own juice back. Bottles will need to be collected before the next pressing session, exact dates will be given when you are here.
Juice can also be left and made in to cider at the farm, minimum of 25 litres in multiples of 25 litres. This will be fermented and matured until bottling in August 2021.
How much does it cost?
For use of the equipment and to take home your juice fresh we ask for a voluntary donation and suggest 25p per litre pressed.
Pasteurising is £1.75 per litre, including bottle, cap and donation for use of equipment
Cider making at the farm is £1.25 per 50cl bottle. £20 deposit is required, balance paid when bottles are collected in August next year
Can I bring friends?
If they are within your social bubble and don't take your group number to over 5 then yes. Spectators will not be able to attend this year
Can I bring children?
Yes, children love the process and can get involved in all stages. You will be responsible for them at all times and to make sure they social distance with other groups. You may also want to consider if extra time may be needed to allow for the children to help with the process.
Can I bring my dog?
No, please leave your dog at home.
I've got some bottles to return, when can I bring them?
We can accept returned bottles for re-use up to the 5th October, after then we won't have time to clean and sterilise them. If you can bring them before 5th October, please make sure they are spotlessly clean and have the tops and tamper evident strip removed.
If you can sterilise them yourself ready to be refilled then you can bring them back when you come to press. We will fill your returned bottles with your juice.
OK, you've read and understood all that, ready to book?
Head over to the new online booking system